16.02.2011 (824 Days Ago)
Game Speculation
Will Sabacc Make it to TOR?
Will Sabacc Make it to TOR?
I oringally posted this on the old TOR Syndicate site, but I've recently gotten into some discussions about this and went to look for the original article and couldn't find it - so I'm posting it again...
---
The game of 'Pazaak' was a common diversion in both the KOTOR 1 and 2 games and because of that, it has been theorized that it may also be a part of the online games as well. While I enjoyed the game and played them all until I won whatever 'top' honor you could in the game's story line, it was really designed to be a two player game (you and an NPC in the case of KOTOR) and the rules were fairly straight forward. As a leader of a smugglers guild, I'm personally hoping for something that would allow you involve more players at a time, and ideally, allow players to play against each other and gamble actual credits. A game that would actually take into account strategy/gambling/bluffing skill sets which a game as straightforward as pazaak does not do in my opinion.
Now, a game that is much closer to that kind of 'poker-like' card game and is a strong part of the canon of the Star Wars universe is Sabacc. It's the game by which Han Solo won the Millennium Falcon from Lando Calrissian. While Pazaak may still make it into SWTOR, I think there have been some strong hints that we may have Sabacc at our disposal. The strongest hint to me has come in the "Blood of the Empire" web comic which has been known to have many other hints about game elements in it as well. In Act 2, Issue #1 and Issue #2, we see the 'companion character' "Maggot" playing a game of cards with other aliens in a space station. His game is later interrupted by a fight his master is having with another Sith that leads to the entire station falling from orbit and being destroyed. (And right when he had a good hand, too! Darn the luck!).
Key frames from that comic can be seen below:
There are at least three things in these panels that lead me to believe that the game they may be playing is 'sabaac':

1) There are multiple people playing the game at once. Pazaak does't seem to me to be set up to be played by many people around a table. Certainly our only experience with it is in a one-on-one situation and usually when that's done - it's done at a specialized pazaak table that displays the 'cards' and the game layout (see example of 'pazaak tables' below). This did not seem to be the case in the comic as players physically held cards in their hands (claws, tentacles, etc.).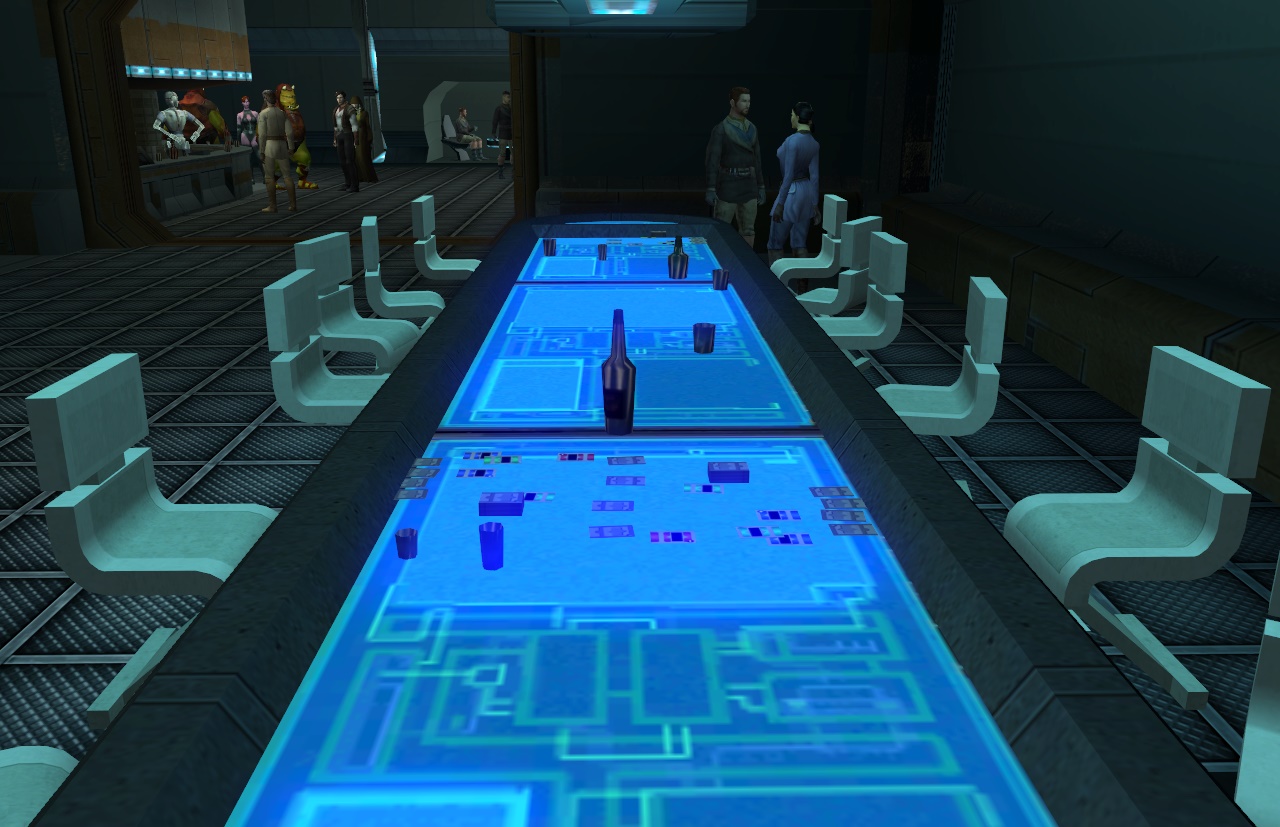 2) The 'cards' in the web comic had varied images on them. Pazaak cards, or at least the only ones we've ever seen, were very straight forward with a single design and a numerical value. A sabaac deck, on the other hand is quite varied. Half-way between a deck of standard playing cards and a tarot deck (Sabaac cards were actually used in a tarot-like fashion by some to tell the future).
3) At one point Maggot says, "Cards are frozen. Show the hand?" This doesn't jive at all with what we know of the Pazaak game. Other than after you lay them down, you can't pick them up again - there is nothing in pazaak about cards being 'frozen'. However, 'freezing' cards to they cannot be removed from your hand or affected by a randomizing effect sometimes used in the game, is a standard part of Sabaac as is the concept of 'showing your hand' as the game is somewhat of a mixture of poker and blackjack.
So, what do you think? Is this speculation valid? If so, how far do you think they will let players use it to gamble against NPC's or even better, each other? I personally would love to have a system in game where players could bet not only money (and the system would make sure that bets were paid) but also that they could put up items/gear as a bet - if the bet was deemed acceptable by all other players in the game.
---
P.S. - If you want to get a feel for how the game of sabacc is played, we have an online version of the game on my site (www.mantellsyndicate.com). You can find it in the 'entertainment' section.
It feels more difficult at first than it is once you've actually played it for a bit. It's really a mixture of blackjack (which has pretty straight forward rules) and poker (where combinations of certain cards win over other combinations and it's not *just* a numerical total of the cards in your hand). One of the things the Sabacc engine on my site doesn't do is introduce the 'randomizing' factor of true Sabacc. According to the canon rules, at various points in the game, a players cards can all be shuffled or randomized, with the exception of the ones that are 'frozen'. This makes luck and bluffing a much bigger element. And really - I'd LOVE a card game that requires a bit of 'skill' as opposed to just being a numbers and an 'uber deck' game. There could be tournaments and achievements based around it. Heck, perhaps even a 'galactic' Sabacc Championship held on Nar Shadaa or something.
But what I'd *really* love to see is, in addition to credits, players being able to 'bet' items/gear - in an interface similar to most player-to-player 'trade' functions in MMOs. Both (or all) players would agree on the value of what was being put up to cover the bet and to the winner go the spoils.
1
Copyright © 2013 TORSyndicate

All rights reserved. This site is in not endorsed by or affiliated with LucasArts, BioWare, or Electronic Arts. Trademarks are the property of their respective owners. LucasArts, the LucasArts logo, STAR WARS and related properties are trademarks in the United States and/or in other countries of Lucasfilm Ltd. and/or its affiliates. © 2008-2011 Lucasfilm Entertainment Company Ltd. or Lucasfilm Ltd. All Rights Reserved. BioWare and the BioWare logo are trademarks or registered trademarks of EA International (Studio and Publishing) Ltd. You may not copy any images, videos or sound clips found on this site or deep link to any image, video or sound clip directly. Game content and materials copyright LICENSOR. All Rights Reserved.